My junior and senior years at Greenville College, I served as the Video Director for AgapeFest 2013 and Creative Director for AgapeFest 2014. Due to various reasons, the 2014 festival ended up being cancelled, but I still spent the majority of my senior year working on videos, graphics, the website and more. Below is some of my best projects from that year.
---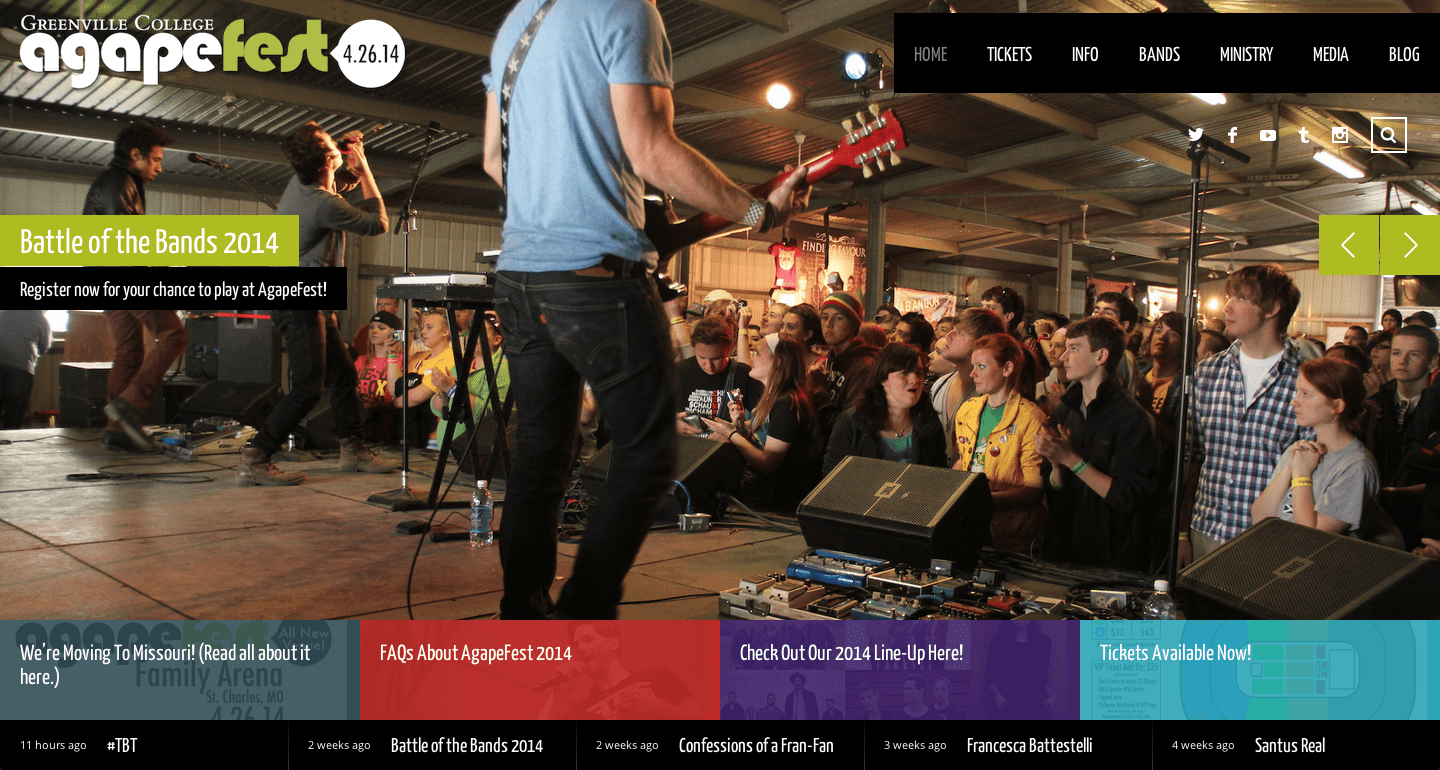 With the announcement of an all-new location for the 2014 festival, we wanted a new look for our website. I built this one using the Muse WordPress theme. They've since changed the look somewhat so this link will take you to a webarchive of the website in its heyday with my set-up!
To go with the launch of the new website and new location in 2014, I thought it would be an appropriate time to update the festival's logo. I used an older logo that had been used before and modernized it. In the end, the marketing team decided against a totally new logo and instead opted for a refresh of the existing logo.
As the Video Director of AgapeFest 2013, I created a series of videos called AFtv. These videos covered a variety of things throughout the year leading up to the festival, including festival announcements, giveaways, contests, and a few just for fun! They certainly weren't all winners, but I'm proud of how they turned out, none-the-less.
---
2013 Artist Announcements
Also as Video Director, I was tasked with creating short videos to announce each of our Main Stage Artists. I used After Effects to make this short, sharable, videos, which we posted online throughout the months leading up to the festival.
This video was made as an advertisement for the 2014 festival to be played at a few of the Winter Jam events in Missouri and Illinois. Despite being my personal favorite video I created for the festival, it was decided that the narration would be difficult to hear and understand in the crowds at the event, and therefore it was rejected. The ad was, unfortunately, never used.